AWARD WINNING
BUY-TO-LET MORTGAGES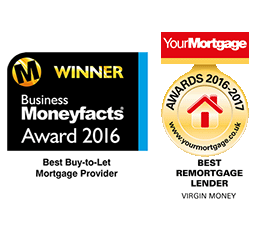 Your home may be repossessed if you do not keep up repayments on your mortgage.
Key lending criteria
Minimum rental calculation of 145% interest coverage ratio (ICR) stressed at a rate of 5.50% (5 year fixed rate products @ 5.24%).
We will accept your personal income to cover rental shortfalls between 100% and 145% ICR.
If you're remortgaging and don't require additional borrowing, this will be calculated at 125% ICR, stressed at a rate of 5.50% across all products.
Minimum combined income of £25,000 per year required. Where personal income is used for affordability, a minimum combined income of £50,000 is required (excluding rental income received from buy-to-let properties).
Usually, you must own your own home for 6 months before applying.
Portfolio landlords
We're now accepting mortgage applications from portfolio landlords.
We define a portfolio landlord as someone with four or more mortgaged buy-to-let properties.
For joint applications, we'll take into account the total individual and joint-mortgaged properties that you own, either in your personal name, or in the name of a limited company or other legal entity.
When assessing your application, we will take into consideration your experience in the buy-to-let market, your full property portfolio and any outstanding mortgages along with their assets and liabilities.
Why choose one of our mortgages?
Keeping upfront costs down
Our remortgage deals come with free basic valuations and either free standard legal work or cashback. We also offer cashback on selected purchase products.
Flexibility as standard
You can make overpayments up to 10% a year and take payment holidays, subject to our agreement.
More reasons to love us
Enjoy fantastic Virgin Group offers and access to our exclusive customer Lounges.
Already have a mortgage with us?
Is your current Virgin Money mortgage deal coming to an end or are you already on our Buy-to-let Variable Rate? See if our mortgage rates could save you money.
Need more help?
We understand that there's a lot to consider when becoming a landlord, so here's some further information which may be helpful when applying for a Virgin Money mortgage.
Visit our buy-to-let help and guides