Bag the best ISAs
Best cash ISA provider winner 2023.
Best investment ISA - small portfolio winner 2023.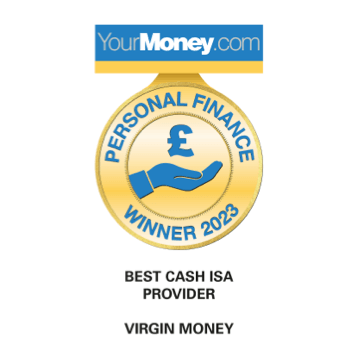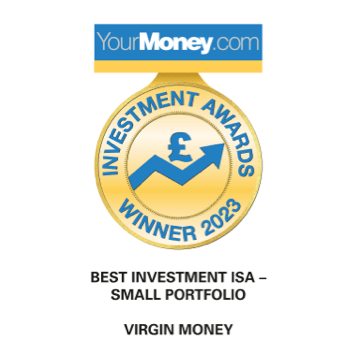 Save with confidence
As we are covered by the Financial Services Compensation Scheme, ISAs with Virgin Money are covered up to £85,000 per person.
View the FSCS guarantee
Got a question?
We've got the answer.
ISA stands for Individual Savings Account, which is a tax-efficient way to grow your money. You don't pay income tax on your interest or dividends, and you don't pay Capital Gains Tax on the profits you make from your investments.
There are four main types of ISA:
Cash ISA - for cash savings.
Stocks and Shares ISA (sometimes called an investment ISA) – invests in the stock market through funds or stocks and shares.
Innovative Finance ISA – you lend your money to people or companies for a return.
Lifetime ISA – helps you save towards your first home or for retirement and comes in the form of cash or stocks and shares.
There are also sub-category ISAs including:
Help to Buy ISA – a cash ISA option designed to help first-time buyers save for a mortgage deposit and then claim a government bonus when they buy their first home. You can no longer open a Help to Buy ISA however, you can continue to pay into one that's already set up.
Junior ISA – available for under 18s and come in the form of cash or stocks and shares.
The current annual ISA allowance is £20,000 each tax year. The maximum you can put into a Lifetime ISA is £4,000 per tax year (which forms part of your overall £20,000 annual allowance). The maximum you can put into a Junior ISA is £9,000 per tax year.
You can spread your allowance across the four different types of ISA, but you can only put money into one ISA of each type in one tax year.
Virgin Money has a range of Cash ISAs, plus a Stocks and Shares ISA with a choice of investment approaches. We don't offer Innovative Finance or Lifetime ISAs at the moment.
We have a range of cash ISAs.
Virgin Money Easy Access Cash ISA – nice and simple. Top up and take money out as often as you want.
Virgin Money Fixed Rate Cash ISA – if you're happy to put your money away for at least a year, you'll get a definite return.
Virgin Money Limited Access Cash ISA - make more of your savings. You can top up as often as you like, but there's a limit to how often you can dip into your savings.
Virgin Money Cash ISA Exclusives – an exclusive interest rate offered to Personal Current Account holders only.