In this section
Virgin Money is fully supportive of the 'Take Five' campaign being run by Financial Fraud Action UK and the five rules designed to keep you and your account safe and secure.
It's all about taking time to stop, think and remember the basic rules you probably already know, but might forget if you feel flustered, pressurised or rushed into sharing information.
Take Five: Rules to keep you and your account safe and secure
Take Five: Rules to stay safe when shopping online
Take Five before you buy. If you're using a retailer for the first time, always take time to research them before you give them any of your details. Be prepared to ask questions before buying
Trust your instincts – if an offer looks too good to believe then there is usually a catch. Be suspicious of prices that are too good to be true
Be sure you know who you are dealing with. Always access the website you are planning to buy from by typing the address into your web browser, and be wary of clicking on links in unsolicited emails
Look for the padlock symbol in the address bar. It's a good indication that they're reputable
Only use retailers you trust, for example ones you know or have been recommended to you. If you're buying an item made by a major brand, you can often find a list of authorised sellers on their official website
Report suspected fraud
If you suspect any fraud on your account(s) please get in touch with us straightaway.
Contact us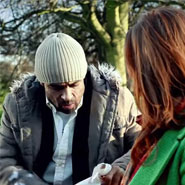 Learn about different types of fraud
Fraudsters will try many ways to gain access to your account or trick you into passing across valuable personal information.
Learn about different types of fraud
Take Five Quiz
Think you know how to spot a scam?
Try the Take Five quiz link opens in a new window and see how you shape up!
---