Pay easily
Apple Pay is the easier, safer way to pay in stores, in apps, and on the web with your iPhone, Apple Watch, iPad or Mac.
It's easy to make debit or credit card payments wherever you see the contactless or Apple Pay symbols.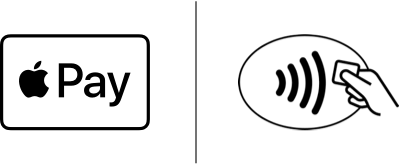 Devices compatible with Apple Pay

Link opens in a new window
Works with all of your Virgin Money cards

If you have a Virgin Money debit or credit card, you can use both to Apple Pay. If you add several cards to your wallet, you can set one as your default card.

Make in-app payments

In-app payments with Apple Pay are secure and simple too. At the checkout, select Apple Pay. You'll be asked to confirm the payment with Face ID, Touch ID or passcode.

Pay with Apple Watch

Use the Watch app on your iPhone to set up your Apple Watch with Apple Pay. To make a payment, just double click your Apple Watch's side button, then hold the watch next to the contactless reader. A tap and beep will let you know the payment's complete.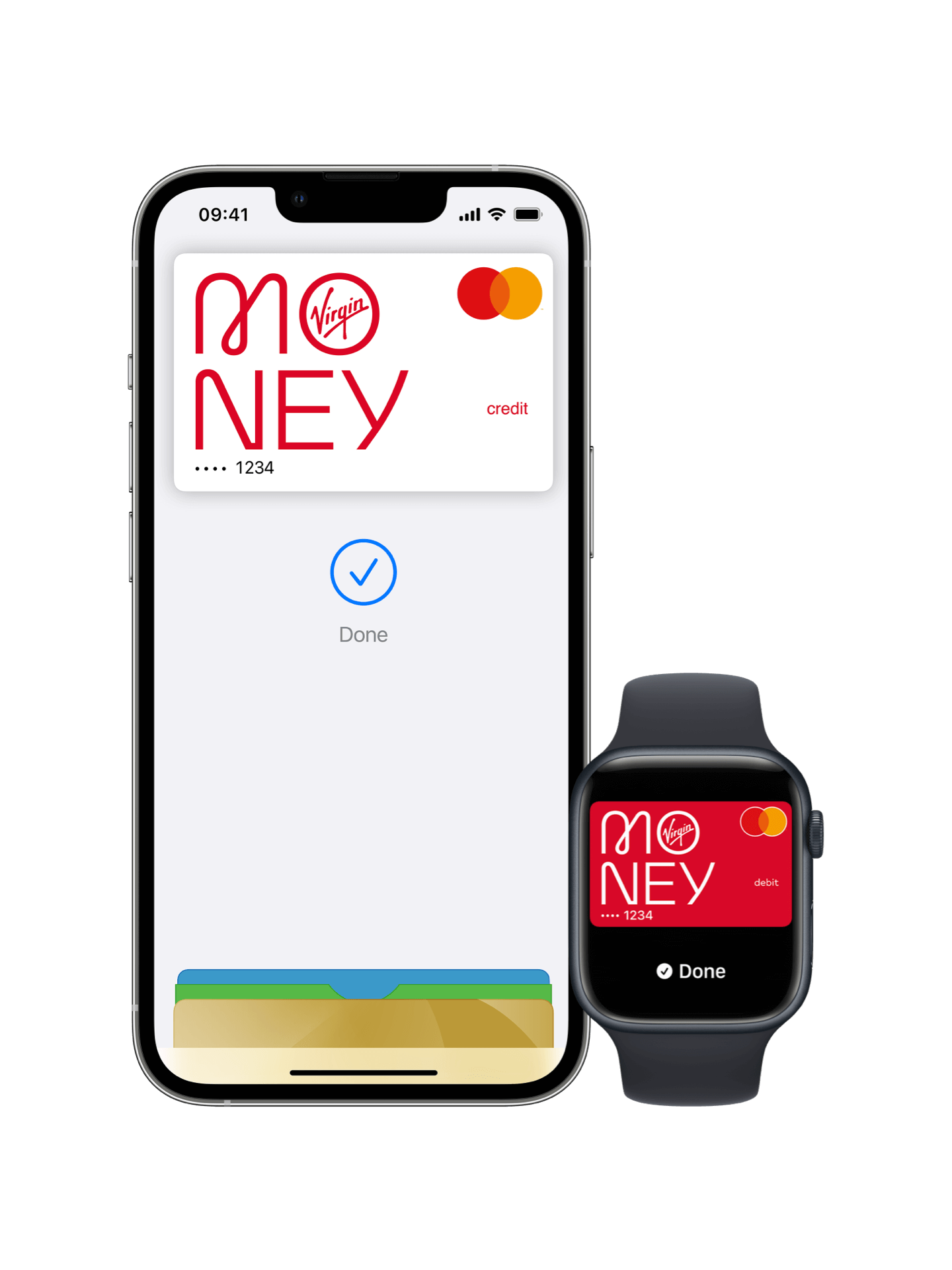 Simple set up
It's easy to add your card to Apple Pay in-app or using the Wallet app. Here's how to get started.
In your Virgin Money app
Look out for the 'Add to Apple Wallet' buttons in our apps. These can be found on the 'More' menu in the Virgin Money Mobile Banking app, and on the Summary screen in the Credit Card app.
---
In the Wallet app
On your iPhone, open the Wallet app and tap the '+' sign. The app will then guide you through the steps to add your Virgin Money debit or credit card to Apple Pay.
Secure payments
The safer, more private way to pay.
Because Apple Pay uses FaceID or TouchID, only you can make payments with your phone.
So if your iPhone, iPad or Apple Watch is lost or stolen, no one else can use it to make payments. Plus, you can use 'Find My iPhone' on iCloud to disable Apple Pay, or wipe your phone completely.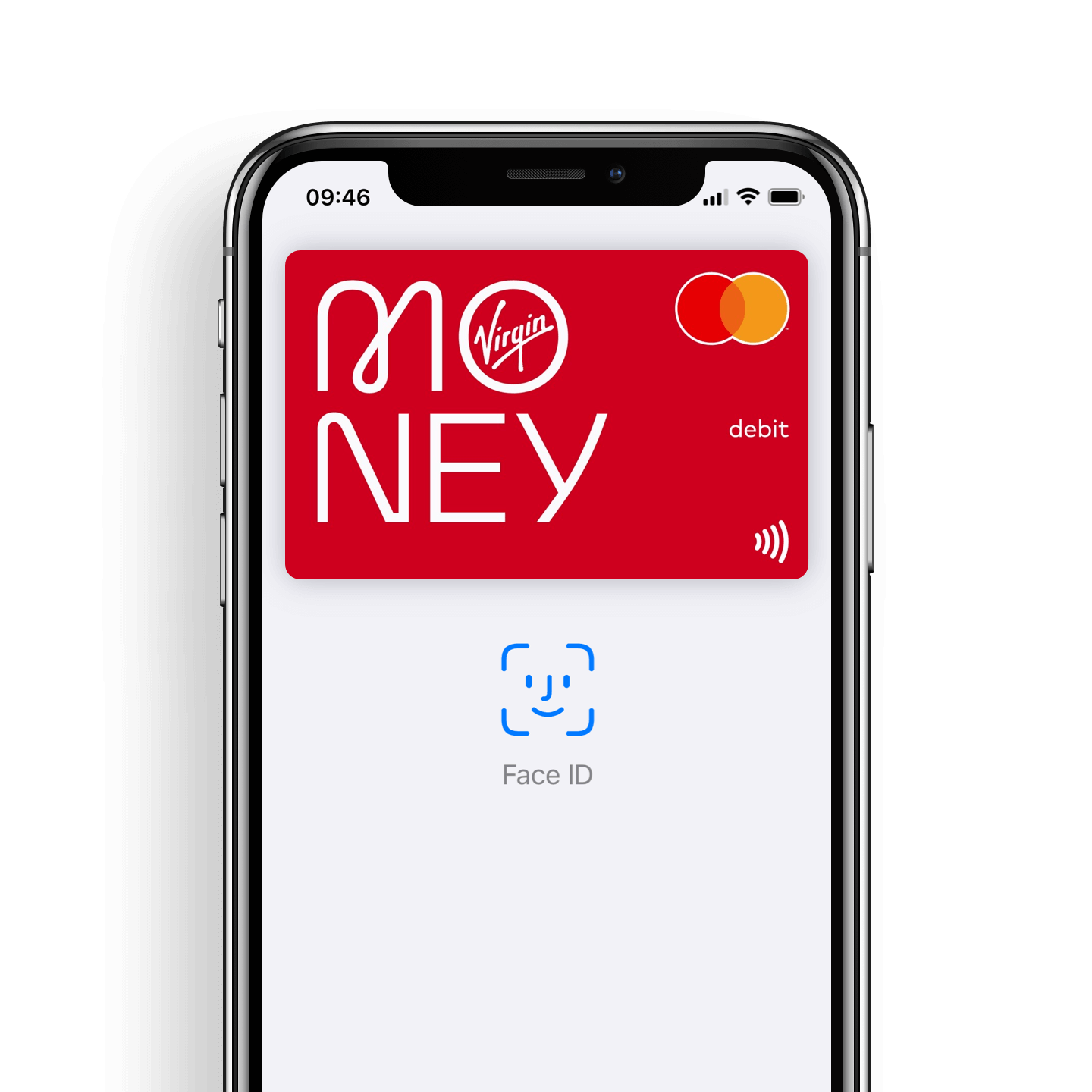 Frequently asked questions
View all frequently asked questions
Yes. You can do this in Apple Wallet.
No. Apple Pay uses a Device Account Number that's unique to your phone or watch. This means your account details aren't shared with anyone. The Device Account Number will only work on your phone.
Yes. You can use the same card on up to nine compatible devices.
No. Just like making a chip and PIN or contactless payment with your card, using Apple Pay is completely free. You might have to pay network charges to your phone service provider depending on the contract you have with them.
Your default card will be the first card you set up on Apple Pay. To change the default card on an iPhone, open the Wallet app, then tap and hold the card you want to make the default - simply drag it to the front of your 'stack' of cards.
On an iPad, go to Settings then select 'Wallet & Apple Pay'. Tap on Default Card to select the card you'd like to make your default.
In the Wallet app, tap on the card then touch the small menu icon in the top right-hand corner. The 'remove card' option is at the bottom of the screen.
You can use Apple Pay wherever contactless payments are accepted. You can also use it within apps where you see the 'Buy with Apple Pay' button. We won't charge you for using Apple Pay but your mobile network provider might, depending on your data plan.
You can add the card you've registered in our app to Apple Pay. To add the second card to Apple Pay, you'll need to use Apple Wallet on your device.
You can view Apple Pay transactions in Apple Wallet on your device. For iPhones, simply tap your card in Apple Wallet then tap the circle icon at the top right of the screen.
For iPads, open the Setting app, tap Apple Wallet & Apple Pay, and then tap your card. For Apple Watch, view transactions for all your devices in Apple Wallet on your iPhone. Transactions will also show in our Virgin Money Mobile Banking/Credit Card app and on your statement.
If you see a transaction you don't recognise (pending or not), please check a few things before getting in touch with our Customer Service Team.
Tap the transaction to see more information, including the type of company, their address (sometimes this is the head office, not the place of purchase), the date the transaction was made and any reference. This may help you identify it. Sometimes the name a company uses is different to the name of the shop or service, which can be confusing. Searching online for this name could tell you who the money went to.
Yes, just look out for the contactless or Apple Pay logos. Remember, when you use Apple Pay abroad there might be different payment limits, and the standard overseas transaction charges will apply.
Some retailers will make any refund back to your device, but others may want to make the refund direct to your card – so it's a good idea to carry that with you as well. If you have multiple cards on your device, make sure you select the one you made the original payment with.
Yes, just access the card you want to stop notifications for using your Wallet or through the Settings menu. If you switch card notifications off, you'll no longer be able to see your last ten transactions in the Wallet app.
You can register your card as lost or stolen and order a replacement card using our app. This can be done in the 'Manage card' section, which can be found in the menu across the bottom of the screen.
For Debit cards, there will be a short break in service (around 24 hours) while the link between your new card and the wallet is updated, this is done automatically for you. You can then continue to use Apple Pay while you wait on your physical card to arrive.
For Credit cards, this will be updated in Apple Wallet on the same day so you can continue to use your card on your device using Apple Pay.
Call the Virgin Money Helpdesk. We'll make sure your Virgin Money or Virgin Atlantic Credit Card is secure. Or visit icloud.com to lock down your device.
If this card is replacing an old card, your Wallet will be automatically updated with your new card details for you to continue using Apple Pay. However, if this is a new card type (maybe you've changed your account with us or requested different functionality) or if you've never used Apple Pay before, you'll have to manually add your new card to Apple Wallet.
Yes. Apple Pay is separate to our apps. Apple Pay will continue to work until you remove your card from Apple Wallet.
For help with Apple Pay, get in touch with our Helpdesk.
Virgin Money Credit Card customers 0800 328 3579
Virgin Atlantic Credit Card customers 0800 328 3578
Our Helpdesk is here 8am-8pm Mon-Fri and 8.30am-5pm Sat.
Some retailers may limit individual payments to £45
Apple Pay, the Apple logo, iPhone, iPad, Apple Watch, and Touch ID are trademarks of Apple Inc.