Personal Loans Online Service
Stay safe and secure
Criminals use a wide range of methods to commit fraud and scams so to keep yourself safe follow these five rules –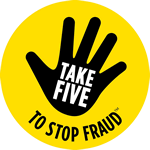 Never disclose security details, such as your PIN, full banking password or one-time pass code to anyone - even bank staff.
Don't assume an email, text or phone call is authentic.
Don't be rushed – a genuine organisation won't mind waiting.
Listen to your instincts – you know if something doesn't feel right.
Stay in control – don't panic and make a decision you'll regret.
Its all about taking time to:
Stop: Taking a moment to stop and think before parting with your money or information could keep you safe.
Challenge: Could it be fake? It's ok to reject, refuse or ignore any requests. Only criminals will try to rush or panic you.
Protect: Contact your bank immediately if you think you've fallen for a scam and report it to Action Fraud.
If you'd like to know more, visit our fraud and security pages.
KISS MY ISA
A straightforward, good value Stocks & Shares ISA that rewards you too. Do the bright thing and open yours from just £25 today.
Capital at risk.
Check it out