We can help you with foreign currency transactions, big or small
If your business imports or exports goods or services from other countries, you may need to pay or receive foreign currencies.
Complete your transfers with:
M-Exchange, our online foreign exchange dealing system
Telephone, via our dealing room based in Glasgow
We can offer bespoke solutions from our suite of products to importers and exporters of all sizes - from those with regular foreign exchange cashflow needs, to businesses with large one-off foreign currency exposures.
Facilities are subject to status and eligibility
Terms, conditions & other important documents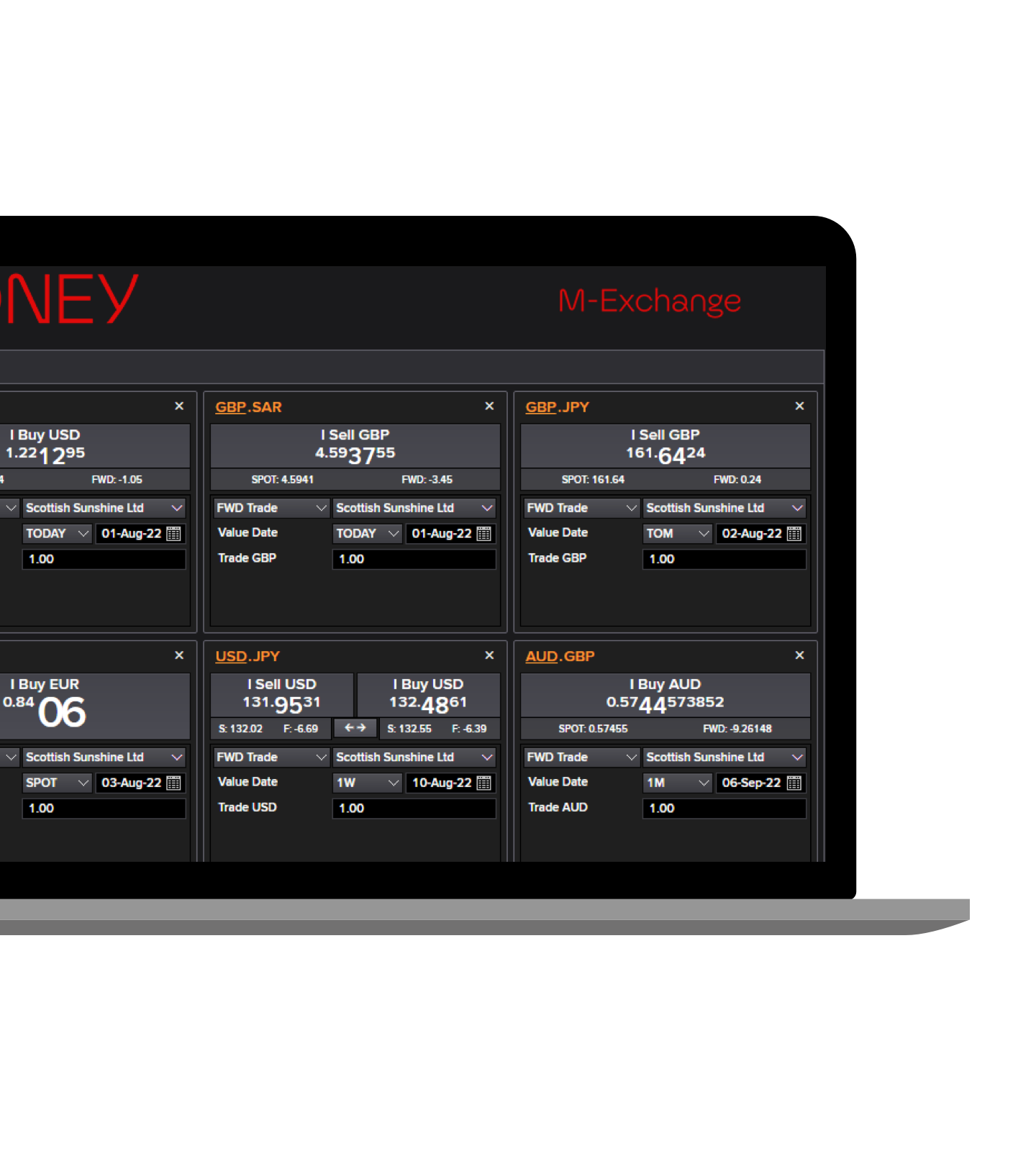 Important Information
Foreign currency transactions involve the risk of loss because of movements in exchange rates. You should not enter into these transactions if you do not understand the risks. It is your responsibility to monitor your transactions on M-Exchange, Virgin Money will not be liable for your losses in any circumstances.
If you transact certain Foreign Exchange products with us, you will no longer be able to take advantage of favourable market movements.
For example, the FX Forward product will lock you in to a specific rate, so you'll not be able to take advantage of a rate change in your favour. However, as your rate is locked, you'll also be protected from an unfavourable rate change.
In addition, for some products a break cost, which could be significant may be payable if you seek to break the terms of the contract. You should take account of the likelihood of incurring break costs and what causes them to increase before you opt for a Foreign Exchange risk management solution.
More information on our Foreign Exchange products can be found within our key information documents.
Foreign Exchange products are only offered to customers with a currency exposure. Trading of a speculative nature is strictly prohibited.
Choose from a range of major currencies to make or receive payments
Convert funds from foreign currency to sterling and vice versa whenever you like
Your eligible deposits with Virgin Money are covered up to £85,000 per business with FSCS.
Terms and conditions apply. All facilities are subject to status and eligibility. Applicants must be aged 18 or over. You must be based and operated in the UK (excluding Channel Islands, Isle of Man & Northern Ireland). Fees apply.
Choose to have your accounts in
a range of foreign currencies
United States Dollar (USD)
Euro (EUR)
Australian Dollar (AUD)
Canadian Dollar (CAD)
Danish Krone (DKK)
Hong Kong Dollar (HKD)
Japanese Yen (JPY)
New Zealand Dollar (NZD)
Norwegian Krone (NOK)
Polish Zloty (PLN)
Singapore Dollar (SGD)
South African Rand (ZAR)
Swedish Krona (SEK)
Swiss Franc (CHF)
Interested in a Foreign Currency Account?
Please contact your relationship manager or call 0800 756 0800.
You'll need to have a sterling account with us before you can open a Foreign Currency Account.
Fancy a chat?
Get in touch and we'll talk you through the products and
services we can offer.
Additionally if you're interested in keeping up to date with foreign exchange rates and economic news, our Weekly FX Wrap Up provides summary information on the FX ranges for GBP/USD & GBP/EUR and other foreign exchange news.
These updates are provided for informational purposes only and do not constitute financial advice and should not be relied upon when making any investment decision.
Contact us on: